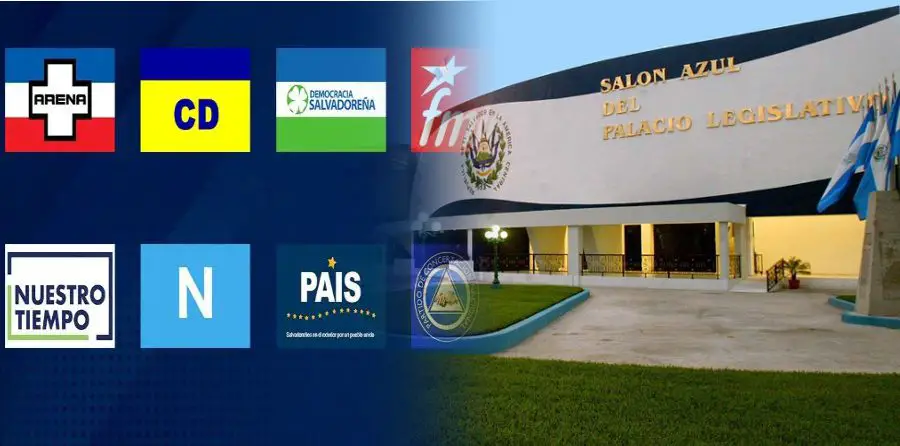 Getting to know El Salvador Political Parties finances is a challenge! It appears that they don't want to divulge that information to the general public. In this pre-electoral year, questions about their finances have come to light more than before.
Thanks primarily to President Bukele's decisions and actions (excellent to some and horrible to others), the upcoming 2024 elections will be closely scrutinized worldwide.
President Bukele's possible re-election is and will continue to be the central topic of discussion for the year, but that is a subject for another time; today, the focus is on "El Salvador Political Parties finances."
Questions such as how much these political parties spend on electoral campaigns and who is financing them are what most people want to know and should know. However, going into the 2024 Salvadoran elections, there is no answer to these financial questions.
No information regarding the political party's finances can be found anywhere; no government entity collects this information. Also, the Supreme Electoral Tribunal (TSE), the highest authority in electoral matters in El Salvador, does not have this information available to the public.
A report by Salvadoran NGO citizen action (Accion Ciudadana), released in March 2023, sheds some light on the finances of these Salvadoran political parties; the information is from 2016 to 2020.
The following table shows how much each political party spent from 2016 to 2020. According to citizen action NGO, these totals are done with the limited data they received.
Political party's expenditures 2016-20.

| Political Party | Amount |
| --- | --- |
| ARENA | $79,834,885.34 |
| FMLN | $29,805,856.56 |
| GANA | $13,783,447.91 |
| Nuevas Ideas | $10,490,537.16 |
| PCN | $8,227,366.04 |
| PDC | $3,084,861.23 |
| DS | $2,961,793.66 |
| Vamos | $827,113.54 |
| Nuestro Tiempo | $545,879.18 |
| PSP | $186,164.67 |
| PSD | $104,435.66 |
| FPS | $88,584.06 |
| CD | $56,160.73 |
| Total | $139,506,548.58 |
The report shows that Political parties spent 139.5 million between 2014-2020; it also notes that there is a lack of clarity regarding the political parties' expenditures.
"The lack of information affects adequate supervision and accountability," states the NGO. Also, they claim that many political parties have not disclosed their financial information to the citizen action NGO.
Before moving forward, it is necessary to clarify that Salvadoran political parties are not required to share any financial information with the citizen action NGO; any information disclosed to them is voluntary.
The citizen action NGO describes itself as "an association that promotes the political reform of the State, transparency, and accountability." However, many see the NGO as an entity that opposes the current Bukele administration, and they can make an argument for that sentiment.
For example, Eduardo Escobar, the NGOs executive director, has made many public statements and arguments against President Bukele and his right to seek re-election. Escobar has also made many arguments against the State of Exception security measure.
Why we should know this information
Regardless if the citizen action NGO or its executive director is against the Bukele administration, they make a valid argument; information about El Salvador Political Parties' finances should be made public.
As Salvadorans, we need to know how much money these political entities spend on political campaigns and who is financing them! Based on surveys, this financial information will most likely not impact the results of the upcoming elections.
Nevertheless, knowing how much money these political entities spend on political campaigns and where the funds come from is necessary to maintain transparency and not repeat history.
It has been documented that previous governments of the FMLN/ARENA political parties used public funds to finance their electoral campaigns. We need to make sure that is not the case anymore! Accessing these political parties' finances will help ensure no public funds get used during the 2024 electoral campaign.
Also, knowing who is financing these political parties is necessary to avoid corruption. Once again, vast corruption cases by businesses and individuals with links to the last four administrations are why financial transparency by political parties is needed.
What to do about El Salvador Political Parties finances?
The optimal thing that needs to happen is the creation of a division under the Supreme Electoral Tribunal (TSE) that has the power to oversight the finances of these political parties. Obviously, that information needs to be public.
Having this controlling division will add transparency, and it will keep the general population informed. However, getting to the point when this actually happens will not be easy. History has shown that Salvadoran political parties want to keep this financial information private!