The Autonomous Port Executive Commission (CEPA) has confirmed that El Salvador's International Airport has already served more passenger traffic in 2023 than the total recorded in 2022.
CEPA reports that between January and October 2023, over 3.6 million passengers used Oscar Arnulfo Romero Airport for arrivals, departures, and connections, surpassing the total of 3.4 million travelers in 2022 by 5%.
The airport is the country's principal air hub, with 14 commercial airlines operating to 30 destinations. The number of passengers served by airports in 2023 has almost returned to pre-pandemic levels; 3.72 million passengers were served in 2019.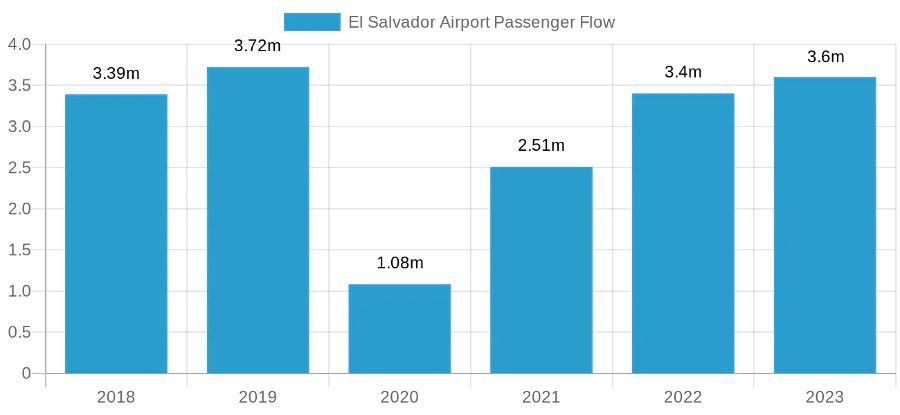 CEPA also stated that in the first 10 months of the year, 33,976 flight operations have been serviced, an 18% growth compared to last year.
Passenger traffic at the international airport in El Salvador is expected to increase for the rest of this year and into next year.
Avianca Airlines has announced the reactivation of the direct flight between El Salvador and Panama City starting on December 15. Also, Volaris Airline is scheduled to begin operations this weekend for their flight to Chicago.
Furthermore, Avianca has announced an increase of 110 weekly flights at the Salvadoran International Airport. El Salvador airport is Avianca's second connection center after its base in Bogota, Colombia.
Lastly, Volaris, the low-cost airline and second largest in the Salvadoran market, assured that more than 60% of their seat have been reserved for the end-of-year season; Volaris Airlines is expecting a solid passenger closure in 2023.
El Salvador International Airport has experienced notable fluctuations in passenger traffic in recent years. With a combination of factors, including increased tourism, infrastructure development, and economic growth, the airport is poised for continued growth and expansion in the foreseeable future.