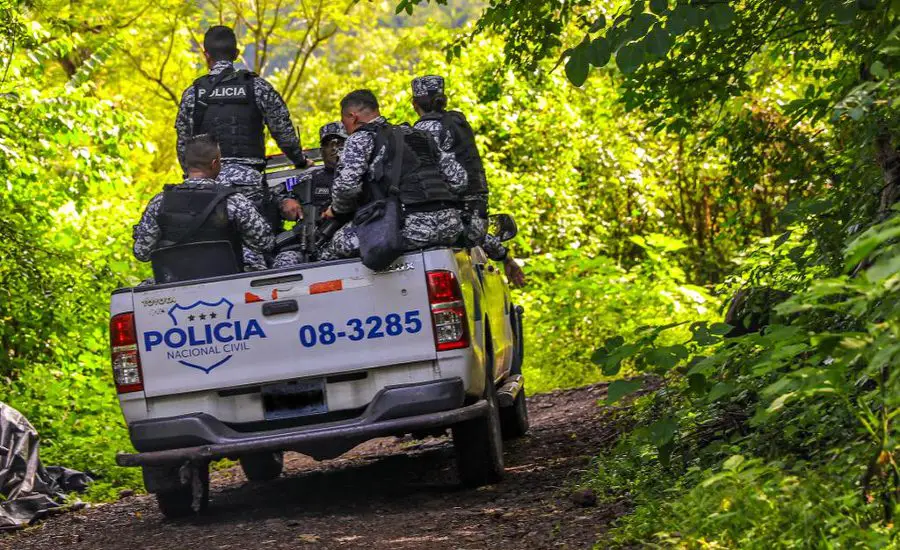 El Salvador Government, under the direction of President Nayib Bukele, has unveiled the latest phase of his campaign against street gangs in El Salvador. It involves deploying thousands of soldiers to the Cabañas department. It also includes new legislation that allows for mass trials.
In a recent move, the Bukele administration dispatched 8,000 soldiers and 1,000 police officers to Cabañas, a sparsely populated rural region bordering Honduras.
Bukele outlined the objective of the move in an August 1 tweet, which is to locate members of the Barrio 18 and MS13 gangs believed to be seeking refuge in the Cabañas area.
8,000 men, including police and army, have cordoned off more than 1,000 square kilometers. No gang member will be able to leave, while our extraction teams are in charge of removing them from their hiding places. The honest population, visitors and tourists have nothing to fear. Security is guaranteed." Nayib Bukele.
The decision to send this security personnel was prompted by a gang attack on police officers in the town of Ilobasco on July 30, where two officers were injured. Subsequently, security forces encircled Cabañas to prevent suspected gang members from escaping.
President Bukele asserted in his tweet that no gang member would be allowed to escape while specialized extraction teams worked to apprehend them from their hiding spots.
SEE ALSO: El Salvador State of Exception; a security measure implemented to fight gangs
In recent weeks, we have identified several groups of gang members who are hiding in the Cabañas department, so we decided to completely close it off." Nayib Bukele.
This military deployment follows the passing of new legislation by the National Assembly on July 26. This new law permits the trial of alleged gang members in large groups, potentially up to 900 individuals, and raises the maximum prison sentence for gang leaders from 45 to 60 years.
These actions are part of an extensive crackdown on gangs, characterized by stringent security measures referred to as the Mano Dura or Iron Fist approach.
SEE ALSO: El Salvador Homicide Rate
Over the past year, the Salvadoran government has employed a state of exception to justify its aggressive stance against gangs. The state of exception suspends certain constitutional rights, such as the right to legal counsel and an increase in detention before seeing a judge.
The security measure has led to the incarceration of approximately 72,000 individuals, which accounts for about 2% of the Salvadoran adult population.
The measures have contributed to a reduction in homicide rates and the dismantling of gangs. President Bukele's approval rating has surged to 90% thanks to the implementation of the state of exception.
President Bukele stated that El Salvador is on track for a remarkable decrease in the homicide rate to 2.2 per 100,000 by 2023, a significant improvement from the staggering 103 per 100,000 in 2015.
Online newspaper El Faro, which regularly criticizes Bukele, has reported that El Salvador has become a place where gangs no longer hold sway or maintain a presence.
SEE ALSO: Days Without Homicides in El Salvador
While the tough anti-gang measures have received support from many Salvadorans, human rights organizations have criticized the state of exception for leading to violations such as arbitrary arrests and unjust judicial procedures. President Bukele appears undeterred by the criticisms and continues to intensify his crackdown.
His recent deployment in Cabañas mirrors his previous tactics, such as the deployment of troops to Nueva Concepcion in the Chalatenango department following the killing of a policeman by suspected gang members.
Implementing mass trials and extended prison sentences demonstrates the Salvadoran Government's determination to carry out widespread arrests and detain individuals for extended periods.
The increase in the maximum sentence for gang leaders aligns with previous sentencing changes for those charged with gang-related crimes. The government initially raised the maximum penalty for gang leaders from nine to 45 years before further elevating it to 60 years.
These security measures (controversial to many) bring Salvadoran authorities closer to their objective of indefinitely removing gangs from Salvadoran streets.