El Cuco El Salvador is a fantastic beach that has vast shores, calm waves, smooth sand, and an incredibly relaxing atmosphere. This tranquil beach is one of the most visited beaches in the country; it's an excellent place for a full day of rest, relaxation, and fun with family or friends.
About El Cuco beach.
As you arrive at the beach, the long shoreline with black sand is what will catch your attention first. This vast shoreline, with soft sand, has plenty of room for activities that are enjoyable either alone or with others.
Of course, you can be as active as you want to be, you can play soccer, football, run around, or relax in the sand and read a book or sleep. This part is entirely up to you!
Also, adding to the allure of this fantastic beach are the gentle waves, which are better during low tide. Without a doubt, in this smooth waters, you will forget about time and feel a calmness that will engulf you. Not to mention that the feel of the soothing waves hitting you will prevent you from wanting to leave.
Lastly, the soft sand; ordinarily, most people try not to get any sand on their feet. However, at El Cuco, the best way to walk on the beach is barefoot, the softness of the sand feels amazingly good.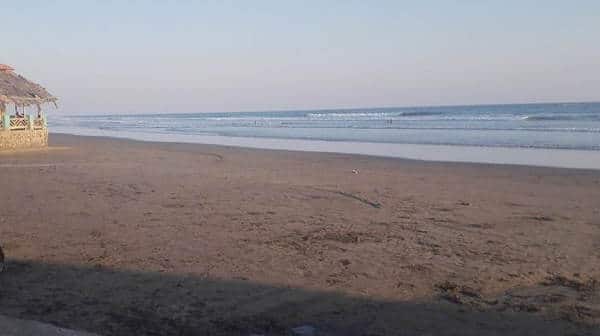 El Cuco beach, San Miguel
Activities
The activities at El Cuco are way less than other beaches in the country. This area is mostly for relaxation and enjoyment; nevertheless, there are still many activities to keep you busy.
The shoreline is perfect for activities such as playing soccer, volleyball, and jogging. Additionally, you can take a boat trip, go fishing, or spend time swimming.
The surf at this beach is not as intensive as in other beaches in El Salvador; as a matter of fact, I can surely say that surfing at El Cuco is not an option. I wouldn't be surprised if while visiting El Cuco you don't see a single surfer.
By all means, if while at El Cuco, you feel the need to find a surfing spot. Visit Las Flores beach, one of the top surf spots in El Salvador, which is about two miles away.
The town of El Cuco El Salvador.
The beach is in front of a small town with the same name, El Cuco. In my opinion, this is a village, not a town; I would be surprised if more than 500 people live in it. I was not able to get proper official information of the population, even from local authorities.
This small town is underdeveloped, there is no ATM or bank, and you will not be able to pay for things with credit cards or debit card. Also, there is no pharmacy or supermarket; everything is sold at small mom and pop stores.
From all the information I was able to gather, it seems that tourism, fishing, and agriculture are the principal sources of income for people in town.
I have been to El Cuco many times and will continue to go again; the charm of an undeveloped town with a great beach is a good enough reason to visit.
Food options.
There is a vast array of small restaurants all over the town that serve mostly fresh seafood and some local dishes.
Whenever you are hungry, just walk up and down the beach and choose one of the many small restaurants. From the outside, they all look the same and most likely will serve the same dishes, fresh seafood, and typical Salvadoran food.
To choose one to eat, I use what I call "My wife's rule to choosing a small restaurant." If there is a lot of people eating or waiting to eat; it has to be  good, and I would try it.
If you are staying at one of the hostels, they, for the most part, will include meals with their packages. Nonetheless, you can find alternatives at the many small restaurants along the coast.
During meal times, especially during lunch, you will smell the aroma of fresh seafood and other local meals being prepared. Support the local economy by eating at one of the many small restaurants.
Accommodations at El Cuco El Salvador.
As I previously mentioned, the area of El Cuco is underdeveloped; therefore, finding the right accommodation that fits all of your needs might be an issue.
I am in no way implying that there is no lodging available at all; there are options available, which are good but are limited.
By the way, if you are planning on spending a few days at El Cuco, I highly recommend that you make arrangements beforehand.
El Cuco location & how to get there.
El Cuco beach is in the eastern part of the country, in the coastal area of the department of San Miguel.
Getting to El Cuco is a little bit difficult. For one thing, El Cuco beach is about 100 or more miles from the capital or the international airport. It doesn't matter if you drive, take a taxi, a shuttle, or public transportation; in the end, each one of them will have some issues.
I am not attempting to discourage you from visiting this excellent beach, but I want to give you correct information. Without further ado, here are a few ways to get to El Cuco beach.
By taxi or private shuttle
The best and fastest way to get to El Cuco beach is by taking a taxi or shuttle; it will take the stress of driving out of your hands, and it will allow you to enjoy the scenery.
Obviously, the cost of taking either a taxi or shuttle will be higher. Nonetheless, it's worth doing. If you are staying at El Cuco for a few days, ask the hotel or hostel where you are staying about shuttle transportation. Some of them might offer it for free or at a discount.
Driving
Driving to El Cuco beach is an excellent option. During the drive, you can spend time talking to other people in the car and have the freedom to do as you please.
However, you will also have to deal with traffic, crazy drivers, and defective roads. Driving long distance in El Salvador is exhausting, especially if this is the first time going to that location.
If this is your first time visiting El Cuco; I highly recommend you take a shuttle or a taxi. But, if you are driving, input the information into google map and follow the directions.
Taking Public Transportation
Taking public transportation is an option; but in my opinion, it needs to be the last option. There are many reasons why, but the top two are as follow.
The long journey.

There are only a few instances where you can take just one direct bus to El Cuco. For most, the trip will involve taking multiple buses to get there. Taking multiple buses can complicate things as bus stations are confusing and not properly run.
Also, you will most likely double, or triple, the time it would take you to get there.

The transportation system.

The public transportation system in El Salvador is poorly managed and not well policed. Poor management leads to chaotic bus stations, that can affect you when you are trying to get to your bus.

The policed part is what can affect the most. There is not enough policing to inspect all the buses; therefore, some of these buses shouldn't be driven. Also, the lack of policing on drivers is what scares people the most; there are some bus drivers with no drivers licenses, driving people around.
The location of El Cuco beach makes it hard to get there, but it's a trip worth taking. Take one of the many options available to get there and visit El Cuco.
Conclusion – El Cuco El Salvador
There is a reason why El Cuco El Salvador is one of the most visited beaches, and also one of the best beaches in the country year after year.
Visitors go to El Cuco beach, because it has vast shores, calm waves, smooth sand, and an incredibly relaxing atmosphere.
If you get to El Salvador, take a day or two and visit this fabulous beach in the eastern part of the country, you will enjoy it!