The types of coffee produced in El Salvador are of the Arabica species. The variations of coffee are Bourbon, Pacas, Tekisic, Pacamara, and Maragogype. The predominant type of coffee plant found in most of the plantations is Bourbon, followed by Pacas, and then the rest of them.
The coffee plantations in El Salvador spread all over the country; but, in the high altitudes of the departments of Santa Ana, Ahuachapan, and Sonsonate. is where you will find the most plantations.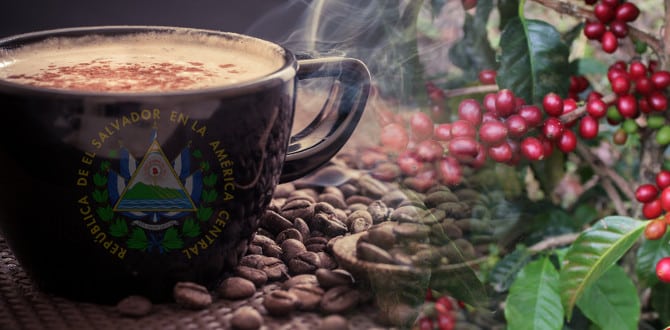 Bourbon, most popular type of coffee produced in El Salvador.
The Bourbon Cultivar is set apart from the rest for being a tall plant with long branches that produce deep red berries, this type of coffee plant grows better at high altitudes.
The Bourbon has a rich aroma that is penetrating with floral overtones; the taste is sweet and chocolate-like. Furthermore, this coffee has a full body and leaves an excellent after taste on the tongue.
To sum up, this is a well-balanced coffee; it is sweet and pleasant with unique chocolate-like characteristics.
Pacas, 2nd most popular type of coffee produced in El Salvador.
Pacas is considered to be a mutation of the Bourbon coffee plant; it is short with long branches and well-developed roots.
This type of coffee plant, because of its roots, has a high tolerance for wind, sun, and drought. Furthermore, it grows better at higher altitudes.
Pacas coffee has a medium body with a mild aroma and fragrance. It leaves a great after-taste and medium acidity.
Tekisic Coffee.
Tekisic or Salvadoran Bourbon Coffee is a tall, slow-growing plant that thrives in high altitude. The coffee quality is very similar to the Bourbon.
This type of coffee plant is a variation of the Bourbon class. In 1949 the Salvadoran Institute for Coffee Research began a process called "Mass Selection." It involved selecting seeds from superior performance Bourbon plants to create a new generation of coffee plants.
Then, the mass selection process was repeated until around 1977, when the news type of coffee plant was released.
To sum up, Tekisic is merely a top selection of the Bourbon variety; so, the story of Tekisic is actually the story of Bourbon.
Pacamara Coffee.
Pacamara is a Coffea Arabica hybrid achieved by crossing Pacas with Red Maragogype; this type of coffee is a mid-size coffee plant with large berries. And just like most Salvadoran coffee plants, Pacamara grows at high altitudes.
This coffee has a very pronounced floral aroma and sweetness with persistent chocolate flavor. It has a full body and a great after-taste.
Maragogype Coffee.
Maragogype is a rather large variety of Arabica coffee, also known as the Elephant or giant coffee beans, this is because they are so large.
The quality of this type of coffee is not as good as the other type of coffee grown in El Salvador. Therefore, production tends to be low, which makes this bean scarce and hard to find.
To sum up, the types of coffee produced in El Salvador grow in rich volcanic soil at high altitudes. Travel to El Salvador and taste the different varieties of Arabic coffee that this country produces.
Visit one of the towns of the Flowers route or Ruta de Las Flores, these towns are near numerous coffee plantations along the Coffe Route in El Salvador.
If you need more information about visiting El Salvador, visit our tourism page, our travel blog, or the ministry of tourism "MITUR" website.
  El Salvador INFO