---
National NEWS
Salvadoran legislators to begin work on President Bukele's water law initiative.
On Friday, June 18th, the Salvadoran Legislative Assembly received a General Water Law initiative from the Nayib Bukele administration. Bukele's water law contains 164 articles, which will be discussed by the Salvadoran congress. Ernesto Castro, president of the Legislative Assembly, announced that an ad hoc commission will be created … Read more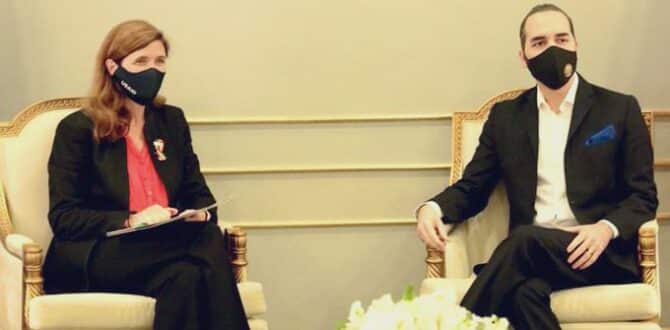 USAID to invest $30 million in El Salvador for job training
On Monday, June 14, Samantha Power, administrator of the United States Agency for International Development (USAID), announced that El Salvador will be the beneficiary of $30 million for job training. USAID seeks to train Salvadorans to take advantage of economic opportunities within the country. "Here in #ElSalvador, I'm proud … Read more
Salvadoran government donates COVID-19 vaccines to Honduran municipalities
Today, June 8, a Salvadoran convoy carrying COVID-19 vaccines is on its way to municipalities in Honduras; this is the second time the Salvadoran government has donated vaccines to Honduran municipalities. This aid of about 16,000 COVID-19 vaccines is on its way to the municipalities of Nueva Ocotepeque and … Read more
President Bukele to give a speech at the Legislative Assembly
Today, June 1, on the second anniversary of his presidency, Nayib Bukele will give a speech at the Legislative Assembly. The president is expected to arrive at the Legislative Assembly's blue room at 8pm to render a report of his two years as president. Last year's speech at the … Read more
Former Ambassador Jean Manes returns to El Salvador as charge d'affaires of the embassy.
The United States Department of State has appointed former ambassador Jean Manes as the new charge d'affaires of the embassy in El Salvador. Manes was Ambassador to El Salvador from 2016 to 2019; she will replace Brendan O'Brien as charge d'affaires. "Today, Secretary Blinken designated Ambassador Jean Manes as … Read more
Salvadoran legislature creates a special commission to investigate NGOs.
In yesterday's legislative session, Salvadoran legislator created a Special Commission to investigate the final destination of funds previously assigned by the Legislative Assembly to non-governmental organizations (NGOs). On May 13, Ernesto Castro, president of the legislative body, reported that several non-governmental organizations had received close to $159 million from … Read more
Pandemic Spending Immunity Deepens El Salvador Corruption Concerns
With a new law granting immunity to El Salvador officials accused of mismanaging coronavirus funds and the resignation of a prosecutor looking into pandemic-related spending, President Nayib Bukele and allies are wasting no time … Read More
Salvadoran Legislators approve funding for phases 2 and 3 of Bukele's territorial control plan
Yesterday, May 11, the Legislative Assembly approved the financing for phases two and three of President Bukele's security plan known as the "Territorial Control Plan." The previous legislature did not approve funding for these phases. With 75 votes out of 84, the new legislature approved a loan for $91 … Read more
El Salvador to donate COVID-19 vaccines to 7 Honduran municipalities.
Sunday night, President Nayib Bukele announced that El Salvador would donate COVID-19 vaccines to seven municipalities in Hondurans to be used on the most at-risk population. "Contact these 7 Honduran mayors. Tell them that the Minister of Health of El Salvador, Francisco Alabi, will receive them this coming Tuesday … Read more
Judge orders prosecution and arrest of Norman Quijano for illicit activities
Yesterday, May 6, the Seventh Justice of the Peace Court of San Salvador ordered the capture of the former ARENA party deputy, Norman Quijano, charged with electoral fraud for negotiating with gangs in exchange for votes in the 2014 presidential elections. The decision was known, on Thursday afternoon, at … Read more
---