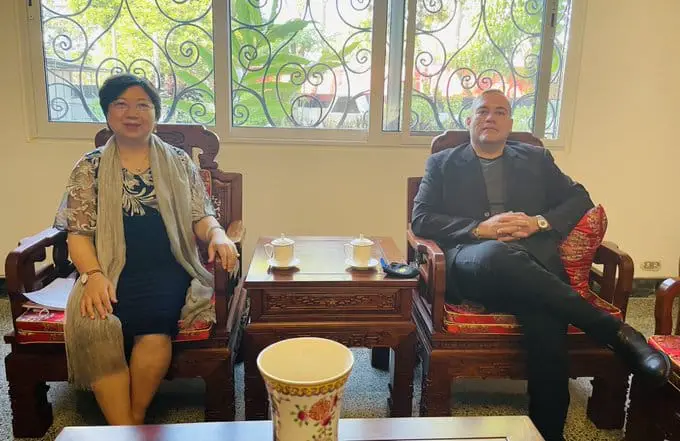 Aldo Alvarez is the first ambassador of El Salvador to the People's Republic of China. Previously, Alvarez was the communications director for the political party Democratic Change (CD) and a political analyst.
If everything goes well, we would be leaving. The challenges are very great, but the opportunities are endless in China," said Alvarez.
"I am assuming the position with great responsibility and with great humility," said Alvarez. This is Alvarez's first position in the diplomatic world. Being Ambassador to China is a great responsibility.
El Salvador and China's political relationship began in August 2028. Since then, the People's Republic of China has proved interested in strengthening ties of friendship between the two nations.
China has committed to financing infrastructure works in the country and has helped the Salvadoran Government obtain the most needed COVID-19 vaccine.
Alvarez said that the Nayib Bukele government's indications are to seek and promote the commercial, economic, cultural, and political elements of El Salvador.
Also, to find new export areas for Salvadoran products and promote Chinese business investments in El Salvador. "I think that not even 0.01% of the potential has been exploited," said the new ambassador.
Alvarez will continue to be a member of the governing body of the CD political party; however, he will be replaced from his position as secretary of communications.
According to Aldo Alvarez, the focus will be to strengthen the relationship with China.
We must have friends from all over; a country like ours must not have enemies. Of course, without neglecting the relations with our traditional partners who must continue to be the best in the world. But, if we can find partners who can collaborate and help us to develop as a country, it is welcome," expressed Alvarez.
China's ambassador to El Salvador, Ou Jianhong, said the following on Twitter. "We will gladly work together, Mr. Ambassador, to further promote mutually beneficial friendly cooperation and strengthen our bilateral relations between our two countries."